Proposition 35 Act Fact Sheet
Download this Fact Sheet in PDF
Download this Fact Sheet in Chinese (中國語言)
Download this Fact Sheet in Vietnamese (Việt)
Download this Fact Sheet in Tagalog
Slated for the November 2012 Statewide General Election Ballot, Proposition 35 (the CASE Act) will strengthen penalties against human trafficking and improve Megan's Law against online predators.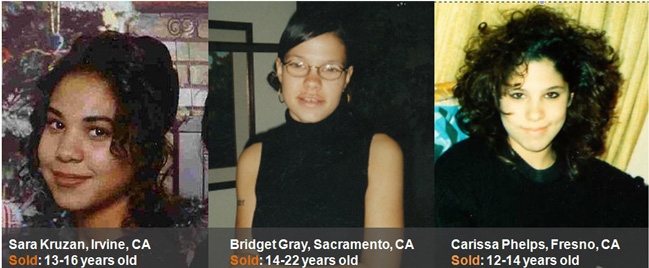 A national study gives California an "F" on laws against child sex trafficking.1
Did you know?
The average age that a victim is first trafficked for sex in the U.S. is just 12-14 years old.2
Many victims are runaway girls who have already suffered sexual abuse as children.
Traffickers or pimps are master manipulators who gain a victim's trust before forcing them into commercial sex acts and keeping them compliant through violence and drugs.
California harbors three of FBI's 13 highest child sex trafficking areas3 in the nation: Los Angeles, San Francisco and San Diego.
The prevalence and anonymity of the internet has fueled the rapid growth of sex
trafficking, making the trade of women and children easier than ever before.
The Proposition 35 (CASE ACT) ballot initiative
Increase prison terms for human traffickers.
Require convicted sex traffickers to register as sex offenders.
Require all registered sex offenders to disclose their internet accounts.
Require criminal fines from convicted human traffickers to pay for services to help victims.
Mandate law enforcement training on human trafficking.
Why use a ballot initiative?
As a proposition on the ballot, it will dramatically raise awareness and unite Californians to take action against human trafficking and sexual exploitation where we live.
Voters will show overwhelming support for it when it is on the ballot.
*The full initiative text is part of the petition which you can download here.
---

[1] California Report Card. Protected Innocence Legislative Framework, Shared Hope International and American Center for Law and Justice, December 2011.
[2]The National Report on Domestic Minor Sex Trafficking: America's Prostituted Children, Shared Hope International, May 2009.
[3] The Federal Bureau of Investigation's Efforts to Combat Crimes Against Children, Audit Report 09-08, January 2009, page  70, Footnote 122.